BUFFALO — Kraig Kurzanski's eyes lit up when he saw Evan Dean play.
And then he couldn't believe he would get to coach him after watching from afar.
Kurzanski was in his final season coaching at Williamsville South when he went to watch then-sophomore Dean and Starpoint lose to Kenmore West, 41-14, on Oct. 16, 2021.
But the result of the game wasn't what Kurzanski took away.
It was Dean's desire to compete in that game which impressed him the most.
So it was no surprise Kurzanski was "excited" when he first heard Dean wanted to transfer to Canisius ahead of the start of last year.
Like Kurzanski did over 40 years ago, Dean chose Canisius, looking for a place that would challenge him academically and athletically and the best path to grow his college prospects. Even after posting 801 yards and eight touchdowns on 48 receptions for the Spartans in 2021.
But with the change also came intense internal competition.
Dean was thrown into a crowded receivers room from the start, as Grand Island resident and current Fordham player Mike Doctor had most of the work-load last season.
But Dean, listed at 5-foot-9, embraced the challenge and still makes his reps count, recording 35 catches for 320 yards and four touchdowns in 15 career games.
"I feel like I'm just trying to do the best I can, I guess," said Dean, who also plays safety for the Crusaders. "I like to be as reliable as possible and just be someone that my team can count on and just be able to pick up yards when my team needs it."
Kurzanski said Dean is a "terrific" route-runner but needed to expand his game even further when he first joined the Crusaders, even more so when he didn't have the ball in his hands.
Emerging into a whole player came full circle in Canisius' 49-7 victory against rival St. Joe's on Sept. 22. With 10 minutes, 6 seconds left in the first quarter, the Crusaders capitalized on their opening drive as Jack Eskridge scored on a 73-yard touchdown run. Dean provided the first block, allowing Eskridge to find the open path to score.
It's the moments of unselfishness, Kurzanski said, that Dean has grown the most.
"You have to celebrate for your teammates when they do well, much like they have to celebrate for you when you do well," Kurzanski said. "... I think Evan's a really good, young guy and my life is better because he's here. And I hope in the long run, his life becomes better because he went here too."
Beyond this season, Dean is once again sorting out his future. He doesn't know what his major will be but is aiming towards playing at the collegiate level. Two of the schools he's had conversations with are St. Francis University in Pennsylvania and locally at Division I Buffalo.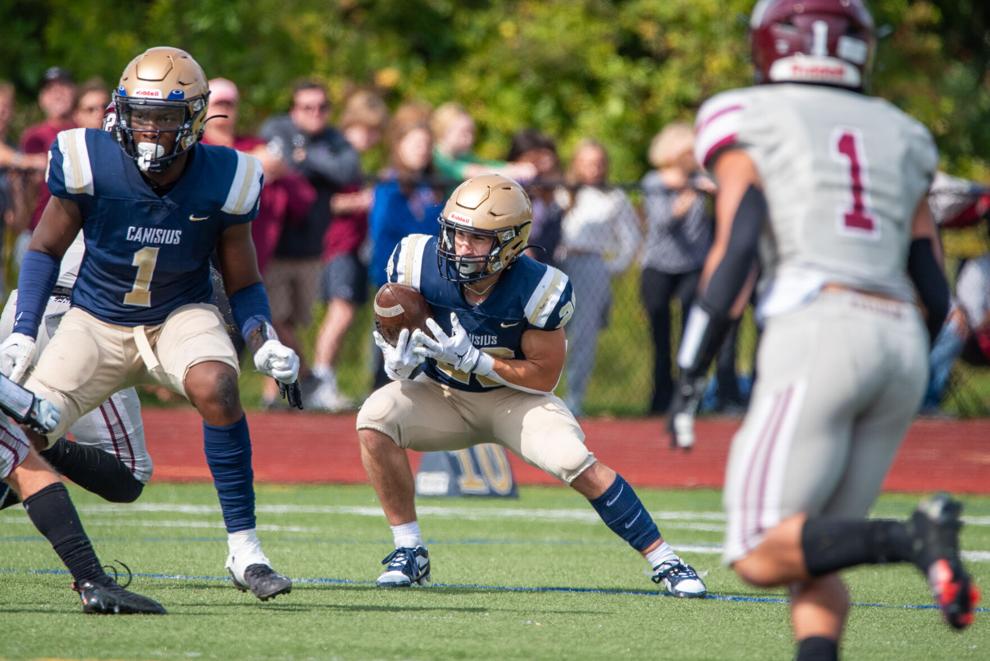 Dean said he enjoyed the camaraderie he developed with his former Starpoint teammates growing up in Pendleton but doesn't regret calling the audible and transferring at the halfway point of his scholastic career.
By transferring, Dean was able to expand his stature, like when he posted a career-best six-catch, 54-yard, two-touchdown stat-line in a 39-22 win against the Marauders on Sept. 24, 2021.
Regardless of his next step, Dean said Canisius provided the exact environment he and his family was looking for when they discussed his future over the holidays two years ago.
"I think (attending Canisius) definitely made me a better player and a better person," Dean said. "I feel like I'm a little more humble. I'm a little more patient. I just feel like I'm a better person."
Kickoff for Canisius (1-3) and Benedictine is set for 1 p.m. Saturday in Euclid, Ohio.